is what the terrorists say (shamelessly stolen from 30Rock - pure awesomeness).
Happy Festivus and Hannukah
Have a very Merry Christmas
Don't forget to celebrate Kwanzaa...
and our cards won't arrive until New Years as has been our tradition for the past few years.
But aren't they just adorable? Thank you Shutterfly and Clever Girls for the free cards. Amazingly, the first cards I picked out were not eligable, even though they were significantly cheapers (photo cards vs stationary), but there were certainly plenty to choose from. Lots of brown this year, though, which I love but Brian is not a fan and nearly everything the boys own is red and blue. Next year I'm going to perhaps try some actual editing of the photos, or maybe go back to the "old days" and do a shot just for the cards.
Without further ado...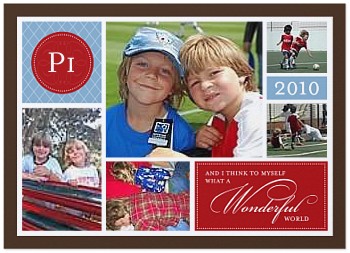 With Love Blue Christmas 5x7 folded card
You'll have to be on our list to get the inside, but feel free to send a request :)